Kids First Saturdays: The Value Of Gestures
This week, we explore the differences in cultural gestures by drawing your hand using graphite. This is the first of three activities that will be used to create your own zine publication during our in-gallery Kids First programming on Saturday, October 3rd 2020.
Advance registration for Kids First programming can be done by emailing s.bernard@thepolygon.ca and same-day registration should be done by telephoning the admissions desk at 604-986-1351.  Our new Covid-19 plan ensures a safe experience for all.
For anyone visiting the gallery from September 4th to November 8th 2020, download and print this 'Seek and Find' document before your visit, to help you look closer at the artworks in the exhibition. Or, use your personal device to look at the sheet as you go through the exhibit with your family.
INSPIRATION
For the next several months, we will discover the artistic practice of 8 artists from the Third Realm: Contemporary Art From Asia exhibition.
In the work of Zhou Xiaohu, institutions of power and group dynamics are explored, and even made-fun-of or satirized, through humour and absurdity. By creating public performances, photographs, animations and videos, the artist has a way of featuring the cultural differences that exist in everyday gestures such as training for work or learning a second language.
For example, the still image below comes from a video titled The Party Camp (2010).  For this piece, the artist invited well-known guests to an art opening and asked them to make simple and potentially awkward gestures while being filmed, such as raising their hands or walking backwards.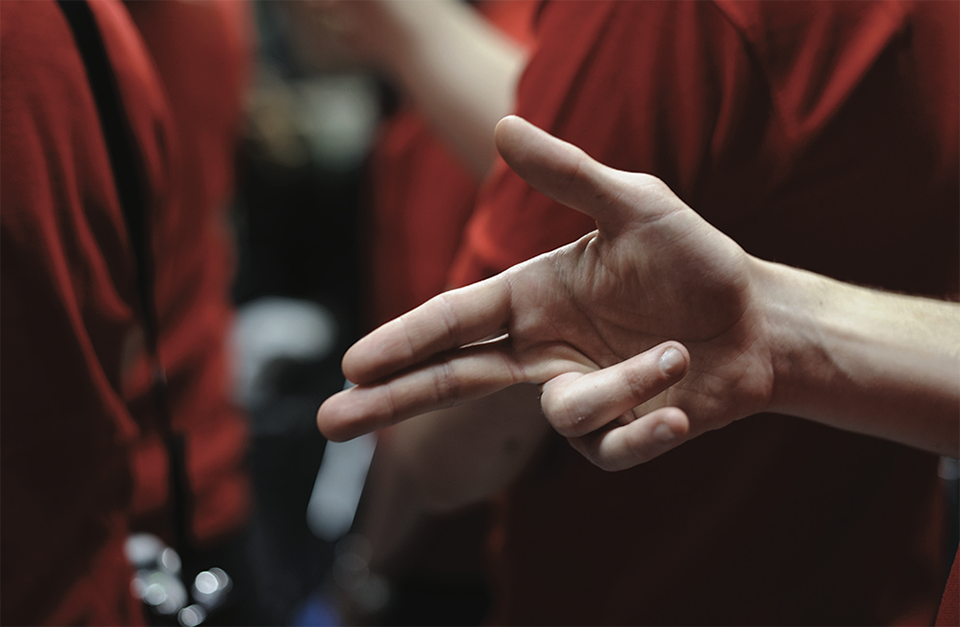 Another example can be seen in the image below and to the left, which comes from the video Crazy English Camp (2010). For this project, the artist invited a teacher from the 'Crazy English' company to teach English as a second language to native English speakers living in London, by repeatedly shouting phrases and gesturing. Through this artwork, Zhou explores social behaviours that can be mistranslated when taken out of context.
And finally, there is the video titled Concentration Training Camp (2010), which is shown here with the still-image to the below-right. In this piece, actors play the part of Chinese employees of an American company learning to work together. By doing different activities, like playing the telephone game or rock-paper-scissors, they mimic a form of teamwork. All the while, participants are really being filmed while hanging upside down using a hidden suspension system, which makes the people in the video appear uncomfortable, otherworldly and funny.

In each of these three examples, the artist uses unexpected situations and the repeated movement of different hand gestures to playfully address the sometimes difficult barriers that exist when two different cultures collide.
STEP 1: GATHER MATERIALS
  Coloured construction paper, full 8.5 X 11 inch sheets or cut in half to 8.5 X 5.5 inches
  Pencils of different hardness: a hard 2H drafting pencil, a regular writing pencil (HB), and a softer 2B drawing pencil
  Pencil sharpener
  Graphite sticks: from 6H to 9B
  Paper towels
STEP 2: USE A REGULAR WRITING PENCIL (HB) TO DRAW THE OUTLINE OF YOUR HAND ON COLOURED CONSTRUCTION PAPER
Using 2 to 3 pieces of coloured construction paper, draw the outline of your hand on separate pieces of paper while making different hand gestures. Each one of these simple drawings will be filled in using different drawing pencils and graphite sticks.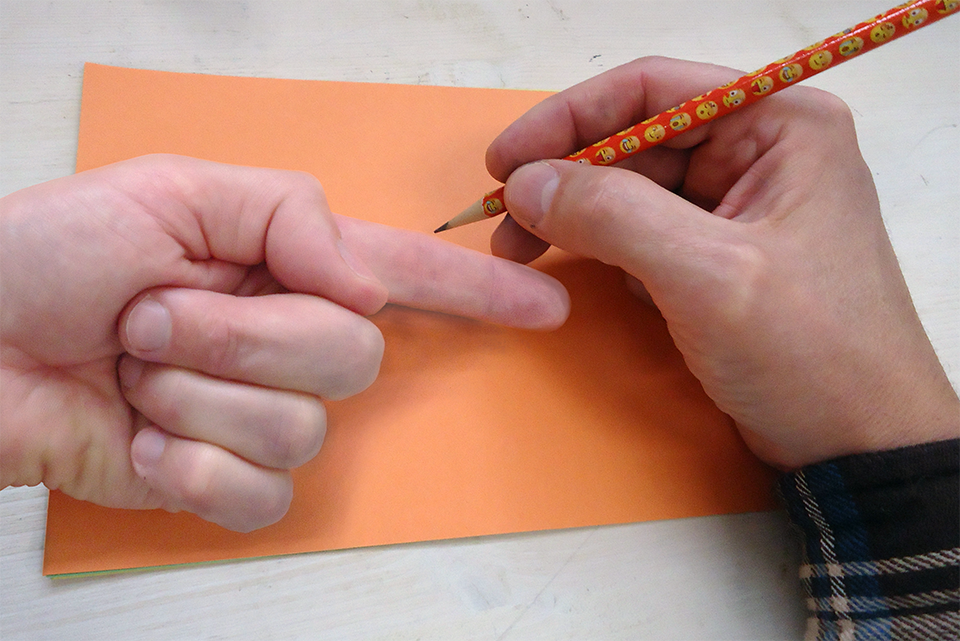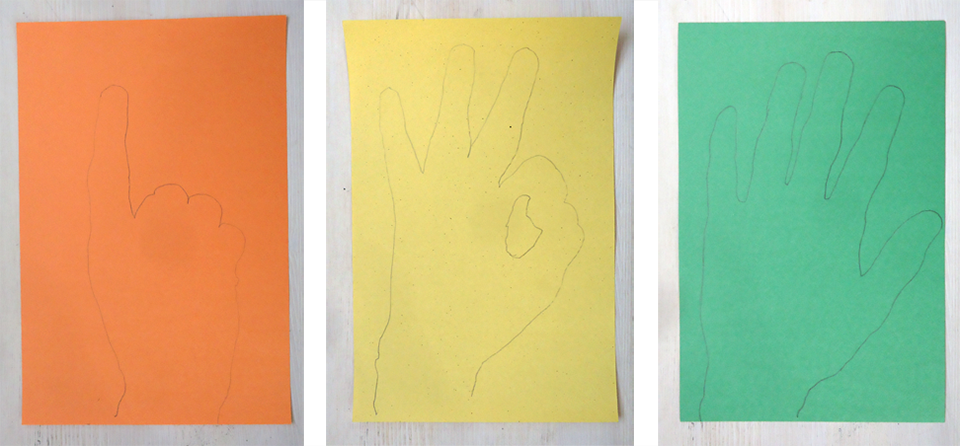 STEP 3: USE DIFFERENT DRAWING PENCILS (2B & 2H) AS WELL AS A GRAPHITE STICK TO ADD THE DETAILS TO ONE HAND
Graphite pencils, like the common writing pencil, are graded on a scale of hardness, where the middle point of the scale is the everyday 'HB' pencil. Unmarked pencils vary from brand to brand, but can be considered 'HB' pencils as a general rule.
The scale of values for drawing pencils is divided between 'H' and 'B', where 'H' stands for 'hard' and 'B' stands for 'black'. The numbers included also tell you how high or low on the scale your graphite pencil can be found. For example, a pencil that is graded '2H' will be much harder than your average 'HB' pencil and will leave a mark that is somewhat lighter in value. '2H' pencils will also wear down a bit slower, and will not require as much sharpening, so they are useful for making thin outlines or light detail work.

A '2B' pencil, on the other hand, will appear much darker on the paper than an unmarked or 'HB' pencil, as the graphite is much softer. This means a '2B' pencil is great for shading large surfaces or for drawing a thick contour line. You can also find graphite sticks that don't use wood to hold the 'lead' or graphite in place. These sticks also come in different grades, where the example below starts with a hard, silvery '6H' at the bottom of the image, then a thin, soft '6B' in the middle, and ending with a dark black '9B' at the top of the picture.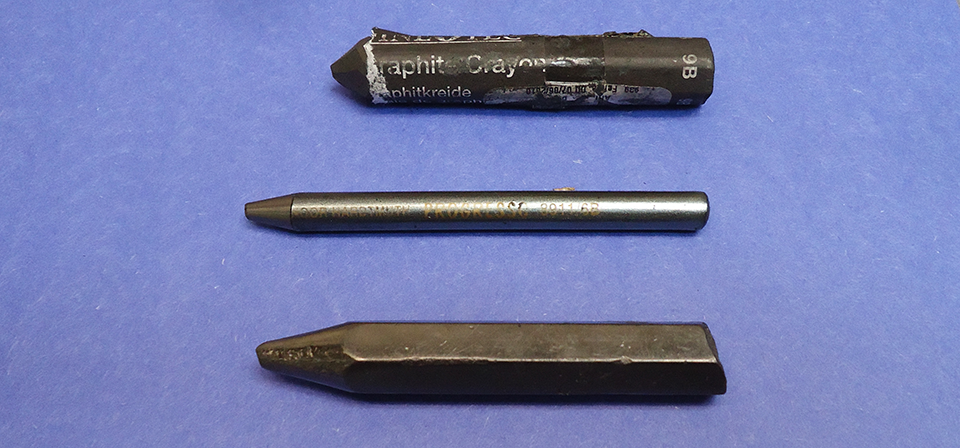 Now, use the '2H' pencil to draw the lightest details of your hand: your fingernails. Once that is finished, take the '2B' pencil to draw some of the darker details like your knuckles and the crinkles in your skin. Take the time to look at each line carefully before you draw it.

The final detail to add is the shading. Use a dark graphite stick of 4B or darker to scribble the areas of your hand where shadows can be seen. This will be the area of darkest value in your drawing, leaving the lighted parts empty, giving your drawing the impression that it is three dimensional. Finish your drawing by using the tip of a paper towel to spread the dark graphite to make it seem as the shadow is creeping up the side of your hand.

STEP 4: USE ONLY A DARK GRAPHITE STICK TO CREATE VALUE QUICKLY IN A SECOND DRAWING
The word 'value' is a term used in the arts when talking about the difference between the lighted areas of an image and those that are found in the shadows. 'Value' is a scale of light to dark, and can be compared to the way pencils are graded from lightest (9H) to darkest (9B) in value. This means white is the lightest value of all, with every other value in between being a shade of darkening grey until you reach black, which is the darkest value. When you add graphite to a coloured image, you are darkening the colour, or adding value to your drawing.
One way to create a simple value drawing is by using a dark graphite stick to make a very thick line on the inside edge of your contour drawing. Then, by rubbing the graphite to the centre of your image using a paper towel, you can create a thick zone of value that pulls in to the area of your drawing that is lightest. Make sure to leave the centre of your image empty as this is the area with the least amount of value: where no graphite can be found.
STEP 5: SHARE YOUR WORK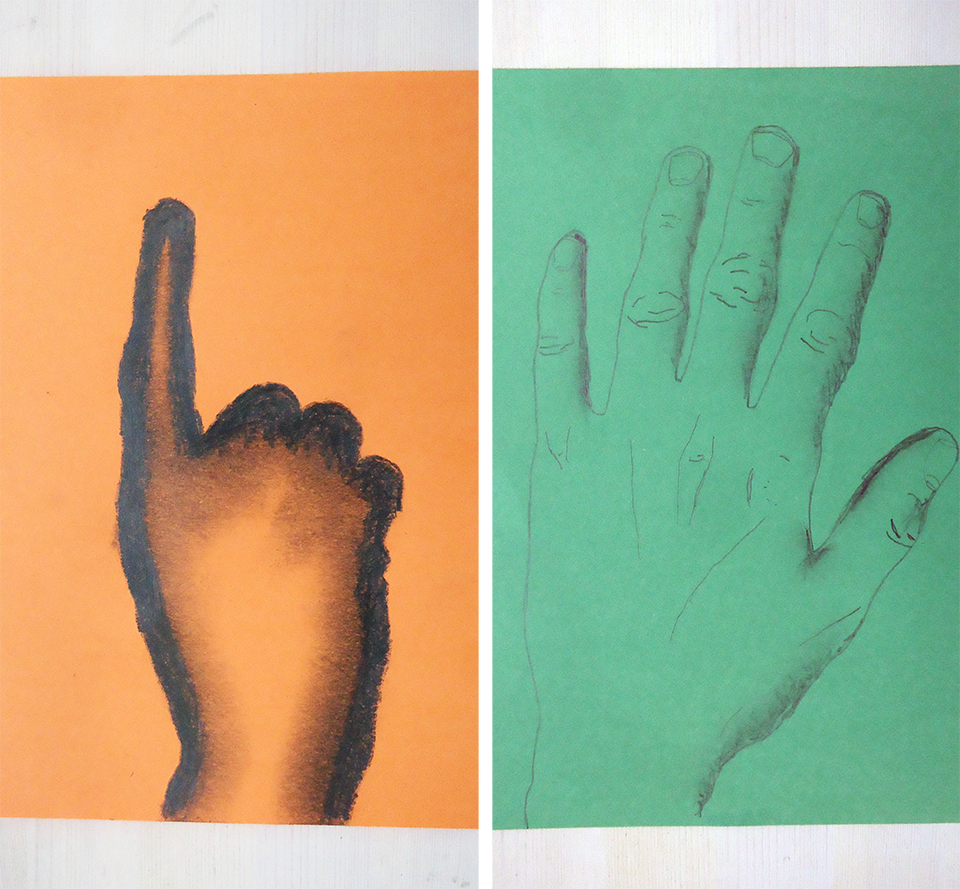 If you share your work online, be sure to tag @polygongallery as we would love to see your different hand drawings. What does each gesture mean, and do some gestures have more than one meaning?
Join us on Saturday, October 3rd, in order to experiment with two more different drawing techniques, while learning how to produce your own zine publication. Hope to see you soon!