Kids First Saturdays: Mask Making Kits
The Polygon Gallery is currently adapting the delivery of our Kids First Saturdays programming in order to best ensure the safety of all its family participants. As such, our activity for January will soon be available in The Polygon Gallery Store as a take-home 'Mask Making Kit', with the necessaries to create personalized artworks from home.
The kits include the following items, thanks to our sponsors Neptune Terminals, Port of Vancouver and Seaspan International:
A neutral theatre mask, made from paper
A set of thin, coloured markers
An HB pencil
Scissors
Clear tape
Stick glue
Coloured foam sheets, 8.5 x 11 inches and smaller
Coloured construction paper, 8.5 x 11 inches and smaller
Coloured cellophane
INSPIRATION
The drawing and collage techniques we will be exploring with the 'Mask Making Kits' are inspired by the work of two artists from the Third Realm exhibition, which took place in all our gallery spaces from September 4 to November 8, 2020. Third Realm was an exhibition that featured the work of 16 contemporary artists and collectives from Asia, with artworks produced between 2004 and 2019, as curated by David Quadrio from the FarEastFarWest Collection.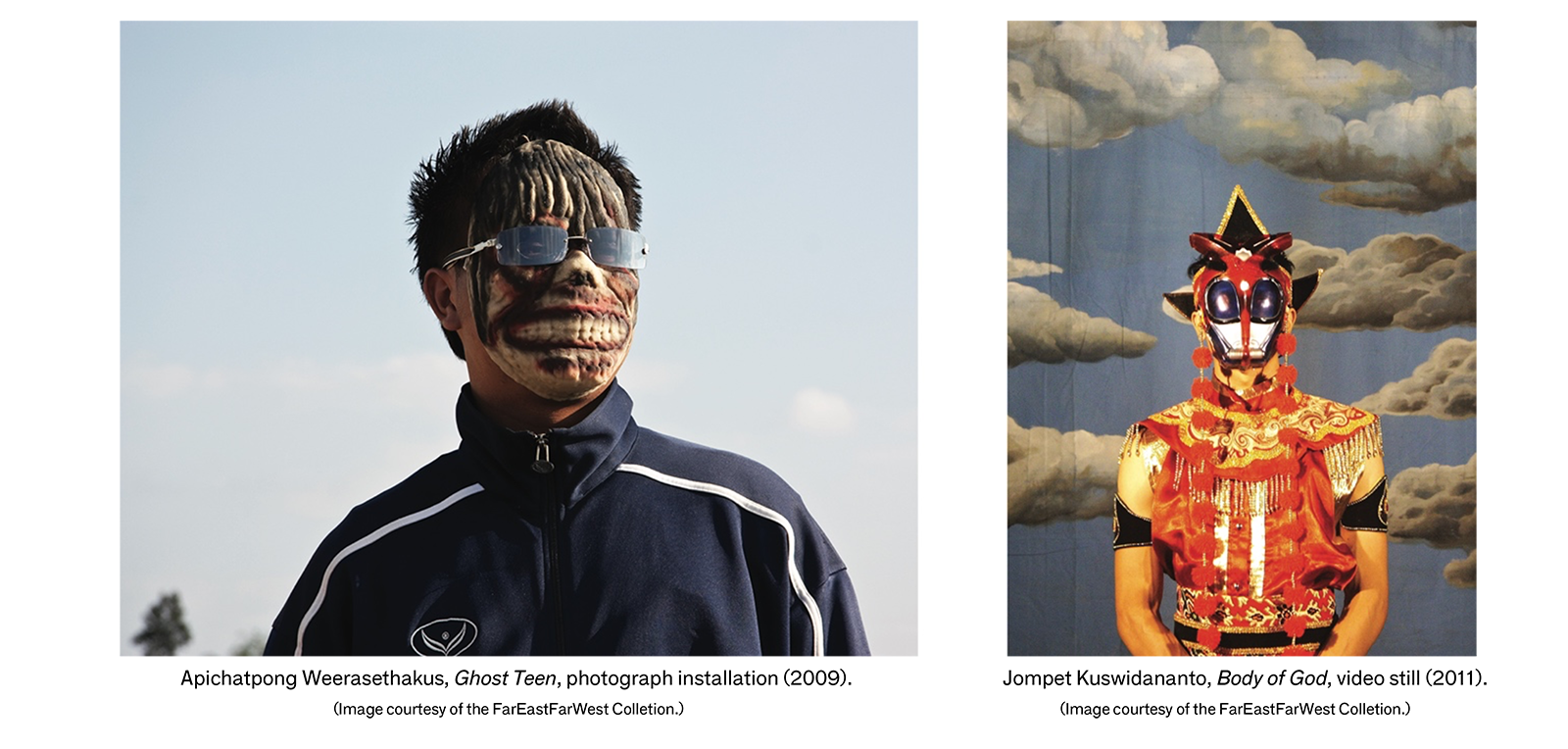 The photographic work of Apichatpong Weerasethakus looks at the history of his native Thailand through the lens of the supernatural, and with the image above, he was questioning the official record of the town of Nabua using the language of surrealism.
In a similar way, the work of Jompet Kuswidananto explores the effects of colonialism in his native Indonesia by looking at how outside influences transform the cultural fabric of his country. In the video Body of God (2011), the artist slowly removes a mix of traditional Javanese costume elements, and a pop-culture plastic mask, as a way of examining the transitional state of Indonesian culture due to the influx of a new globalized culture.
In a similar way, we will be exploring how to create your own, original mask, as a new way of exploring both traditional and popular culture. Pick up your 'Mask Making Kit' starting in the new year!