Kids First Saturdays: Calligraphy And Zine Making
The following instructions will introduce you to calligraphy, which is one of the activities that will be used to create your own zine publication during our in-gallery Kids First programming on Saturday, September 5th 2020.
Registration for Kids First programming can be done by emailing s.bernard@thepolygon.ca.  Our new Covid-19 plan ensures a safe experience for all.
INSPIRATION
For the next several months, we will discover the artistic practice of 8 artists from the Third Realm: Contemporary Art From Asia exhibition, that will be shown in all gallery spaces starting on September 4th 2020.
We continue our exploration this week with the work of FX Harsono, an Indonesian artist of Chinese descent, who is currently exploring personal issues of cultural identity and self by creating paintings, performance and video work.
These two still images come from a video piece titled Writing in the Rain, created in 2011. Harsono begins by writing his name in Chinese characters on a clear wall, to express his identity as well as the cultural significance of calligraphy in Chinese culture. As the video continues, rain begins to fall and erases the text he has written, and the artist continues writing as a way of demonstrating the persistence necessary to retain cultural identity when one is not part of the dominant culture.
Image still from FX Harsono's video, Writing in the Rain (2011), courtesy FarEastFarWest collection.
For anyone visiting the gallery from September 4th to November 8th 2020, download and print this 'Seek and Find' document before your visit, to help you look closer at the artworks in the exhibition. Or, use your personal device to look at the sheet as you go through the exhibit with your family.
STEP 1: GATHER MATERIALS AND LEARN THE 'FOUR TREASURES' OF CHINESE CALLIGRAPHY
  Water colour paper (Western calligraphy) and/or rice paper (East Asian calligraphy)
  Small or medium writing brush (East Asian calligraphy) made with either goat or wolf/weasel hair
  Brush pen (Modern, Western calligraphy)
  Container with water
  Liquid ink with container and/or ink stick and ink stone
  Paper towels and/or newspapers and/or newsprint
  Optional: paper weight and brush holder
The 'Four Treasures' of Chinese calligraphy are the writing brush (筆 or "bǐ"), the ink stick (墨 or "mò"), the paper (紙 or "zhĭ") and the ink stone (硯 or "yàn").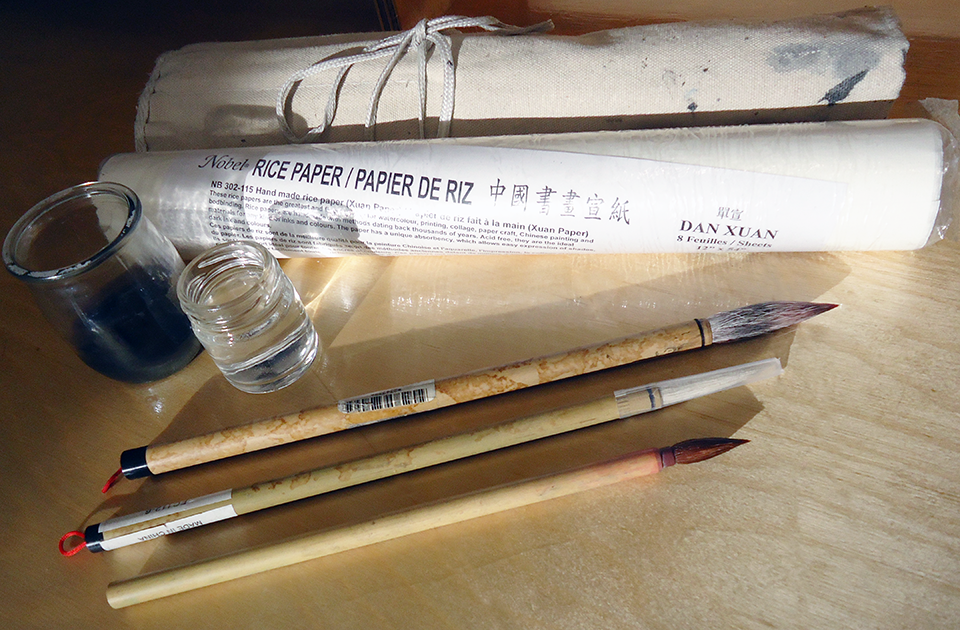 The bristles of the brush can be made of goat hair (white), of rabbit hair (dark), of wolf/weasel hair (amber), or a combination of these to create a mixed brush. Brushes also vary in length and softness, which allows you to use the brushes for different purposes, either writing or painting. Brushes finally need to be cleaned and hung to dry when not in use.
The art of calligraphy also requires the brush to be held in a specific manner in order to write properly, and requires much practice in order for the technique to be mastered over time.

Traditional East Asian ink is made by burning wood and/or oil and by collecting the leftover soot to be pressed into hardened sticks. These solid sticks are then ground into powder using the ink stone, which becomes ink when mixed with water.
The quality of ground ink is different than purchased, liquid ink, and this can improve the variety of choices when making ink and wash paintings.

Paper is also a material that comes in different sizes and qualities, from rolled, unprocessed rice paper that is very absorbent, to flattened, processed paper that is stiffer and more resistant to water absorption.
STEP 2: USE A SOFT-  OR A STIF-HAIR WRITING BRUSH TO WRITE YOUR NAME ON RICE PAPER
In the West, when learning to write the English language, people often start by learning the alphabet using block letters. Block letters are made up of basic shapes and lines such as vertical and horizontal lines, diagonal lines and curved or circular lines.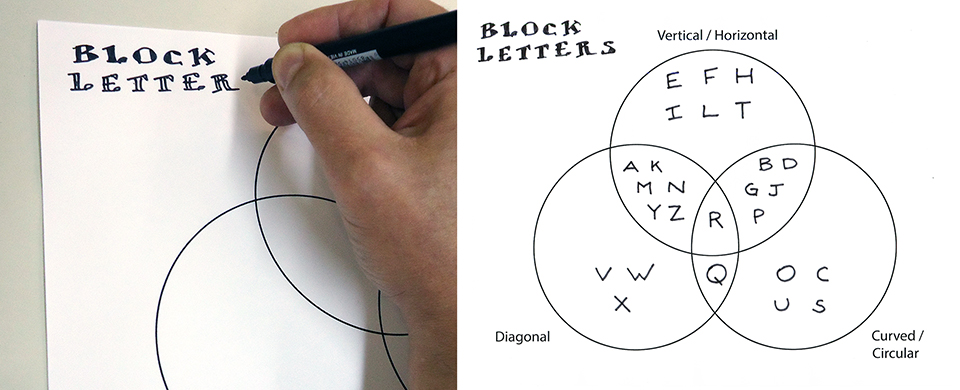 In many countries of the East such as China, language is based on a character system where each symbol is also built using a fixed set of basic shapes and lines. When learning Chinese calligraphy, students must first learn how to draw the following basic strokes that make up all Chinese characters when combined in different ways. Try using this set of basic strokes to write the letters of your name on several sheets of practice paper.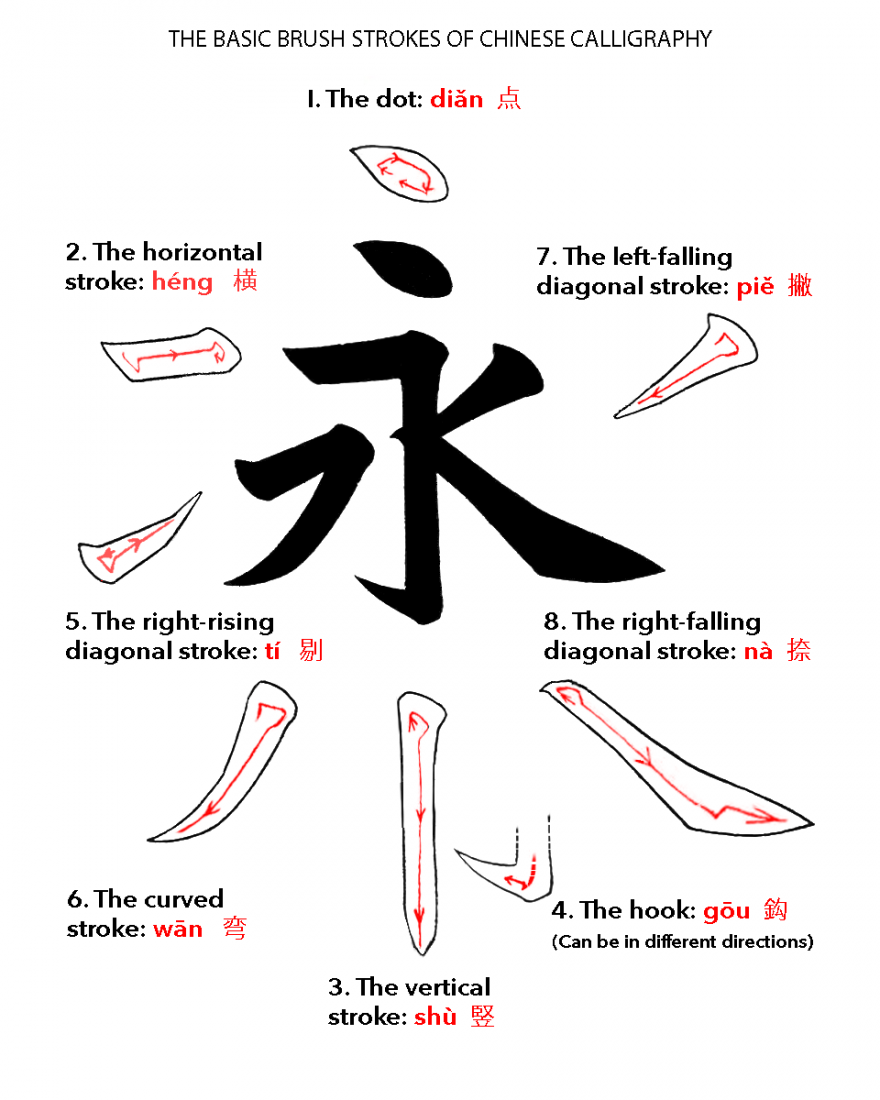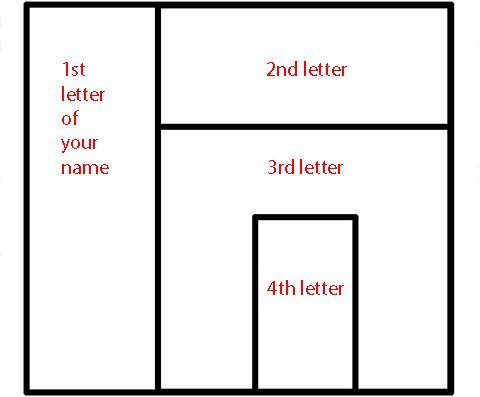 Chinese characters are also written while following a certain order in how the brushstrokes are composed, beginning from left to right, then top to bottom in the second column.
By using the following diagram when ordering your letters, you can transform English words into something visually resembling how Chinese characters look. For example, short names like 'John' or 'Tina' fit this strategy, as seen below. For longer names, try creating more than one 'character' of four letters while keeping the same order to the letters in each.
Once you have had enough practice using the newsprint or computer paper, try your hand at writing on the rice paper. Rice paper is much more sensitive to the absorption of ink and you will have to work quicker with the brush. You may have to try over several times before you are happy with the results.

STEP 3: USE A BRUSH PEN TO WRITE YOUR NAME ON WET WATER COLOUR PAPER
Use a clean calligraphy brush to wet the entire surface of a thick piece of water colour paper. Due to the prepared nature of the paper, it will keep its shape even when very wet. Then use a commercial brush pen to write your name on the surface of the paper.

What happens to the ink? Try writing your name several times as the paper dries to see how the dripping effect changes over time. You can also try using calligraphy ink with the writing brush to write your name, or to add drawing details to the paper.
STEP 4: BIND YOUR DIFFERENT WRITING AND DRAWING EXAMPLES INTO A SMALL PUBLICATION OR ZINE.
Once you've finished making your different writing samples, flatten the paper between sheets of paper towel wedged in a few books, or dry your paper in the sun.
Binding the pages involves using a pre-printed 8.5 X 11 inch cover page that has been folded down the middle. Depending on which items you want to include, you can staple several pages of rice paper, one sheet of water colour paper, and a few pages of telephone book pages treated with an ink and wash painting. The pages should be cut to size prior to binding them to the cover with the help of an office stapler.
STEP 5: SHARE YOUR WORK
If you share your work online, be sure to tag @polygongallery as we would love to see how your name looks depending on the different materials used to write it.
Join us on Saturday, September 5th, in order to write your name using different calligraphy materials, to try your hand at ink and wash painting, and to learn how to bind all these images into a zine publication. Hope to see you this week!