Hot Properties: Urban House Portraiture By Jim Breukelman
Curator: Karen Love
"In Jim Breukelman's earlier photographs, houses have signified as personal images, sometimes of desolation, sometimes of refuge, their doors, windows, gardens or paved front yards illuminating a private symbology, self-revelation through the agency of found structures and spaces. Here, though, the houses are portraits of their owners, gentle explorations into the lives of the people who dwell therein, and all Breukelman's metaphors have opened up from introspection, stretching past the shadows toward a broader social understanding." —Robin Laurence
Supported by the Canada Council and Opus Framing Ltd.
A catalogue was published by Presentation House Gallery in conjunction with the exhibition, with an essay by Robin Laurence.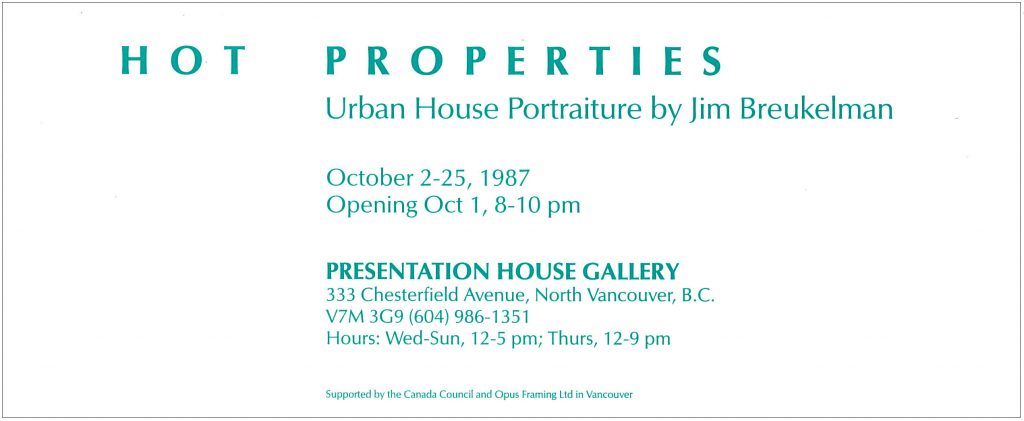 Hot Properties: Urban House Portraiture By Jim Breukelman
In the catalogue which accompanied the exhibition Hot Properties, Urban House Portraiture, (October 2 -25, 1987) Robin Laurence writes, "... the houses are portraits of their owners, gentle explorations into the lives of the people who dwell therein, and all Breukelman's metaphors have opened up from introspection, stretching past the shadows towards a broader understanding. ....What Breukelman has done intuitively, without a dictionary of symbols or psychology, is deduce an interior, an inner life, from each facade."
The catalogue includes a list of exhibition works and biography, with text by Robin Laurence.
Designed by Jim Breukelman. Printed by Hemlock Printers.
OUT OF PRINT
BUY THIS BOOK