Attilia Richard Lukacs: Polaroids
Curated by: Michael Morris
Attila Richard Lukacs / Polaroids / Michael Morris showcases over 600 Polaroid photographs by Vancouver painter Attila Richard Lukacs produced over the past twenty years as referents for paintings, assembled and collaged by Vancouver Island artist Michael Morris. Utilizing the unique characteristics of the Polaroid medium, Lukacs' painter's sensibility is evident in the photograph's rich hues, deep chiaroscuro, romantic sensuality and graphic immediacy. Building on these strengths, Morris employs simple thematic and organizational schemas to create vibrant Polaroid grids, uncovering an archeology of Lukacs' work and relationships through a formal link to his own Colour Bar Research project of the early 1970s.
Collected representations of males are, still, rarely located outside the idioms and arenas of fashion and pornography, and infrequently transcend these delineations. Together, "Male" and Polaroids provoke important questions about our culture' s continuing negotiation of images of men, while offering an extraordinary view onto the subject of the male form.
Catalogue co-published by Arsenal Pupl Press, Art Gallery of Alberta and the Illingworth Kerr Gallery, accompanies the exhibition and includes text by Michael Turner, Scott Watson, Stan Persky and interviews with Attila Lukacs.
Touring exhibition.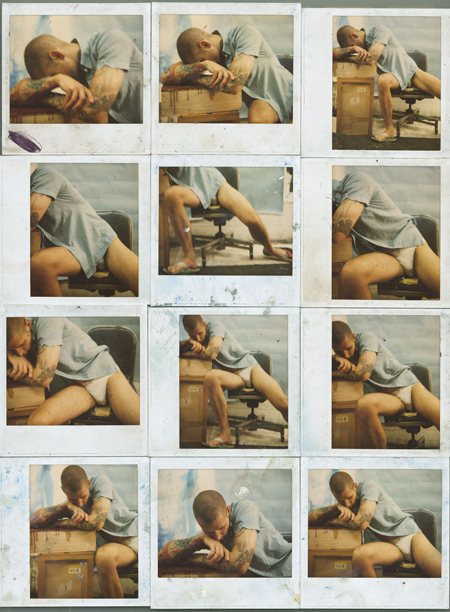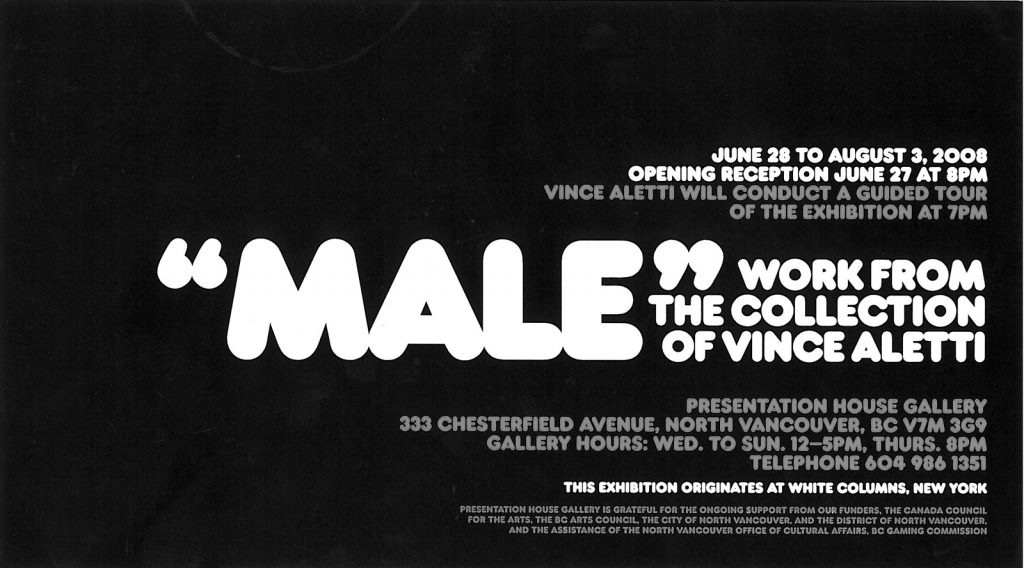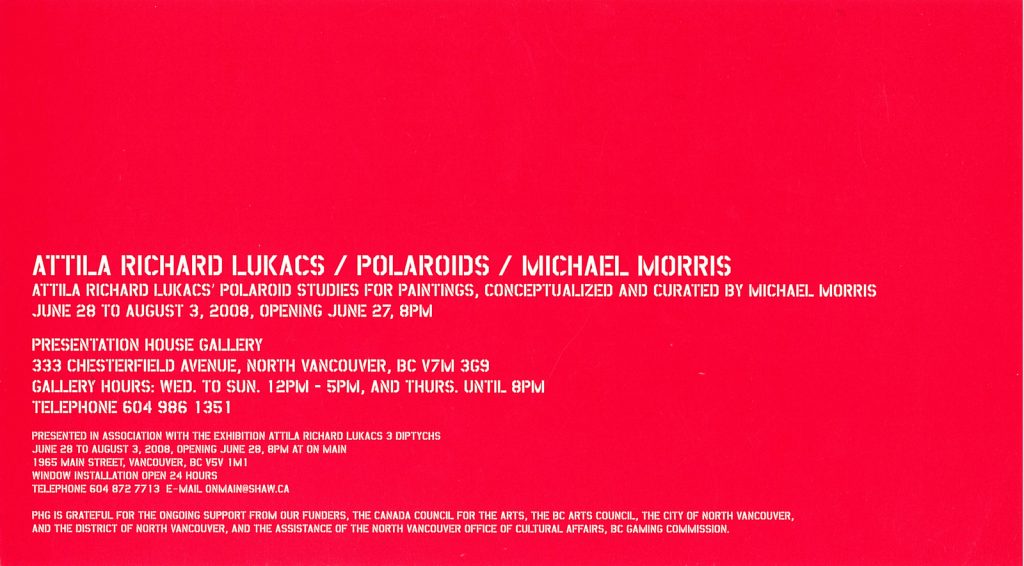 Attila Richard Lukacs And Michael Morris: Polaroids
Attila Richard Lukacs is one of Canada's most talented and controversial contemporary artists. He is best known for his epic paintings that depict masculine, homoerotic imagery, featuring figures such as gay skinheads and military cadets. His work has been exhibited at documenta in Kassel, Germany, as well as in New York, Paris, London, Berlin, Cologne, Montreal, Toronto, and Vancouver, among others; he has also had numerous shows, including the National Gallery of Canada and the Art Gallery of Alberta.
A co-publication between Arsenal Pulp Press, Presentation House Gallery, and the Art Gallery of Alberta in Edmonton, this will be the first book to document the work of this important artist, from an unusual perspective:  a collection of some 1,200 full-colour Polaroid images (twelve per page) taken by Lukacs over the past twenty years as core referents for his paintings, assembled and collaged by Vancouver artist and curator Michael Morris.
Lukacs regularly uses a Polaroid camera as part of his artistic process, using his friends and acquaintances in Berlin, New York, Vancouver and elsewhere as models; taking advantage of the Polaroid's unique characteristics, his painterly sensibility is evident in the rich hues and romantic sensuality of these photographs, which are strikingly similar to the paintings that resulted from them.
The book will feature essays by award-winning author Michael Turner (Hard Core Logo, The Pornographer's Poem); Scott Watson, director of the Morris & Helen Belkin Gallery in Vancouver; and Vince Aletti, the American curator, critic, and journalist.
Stunning and bold, Polaroids: Attila Richard Lukacs and Michael Morris is a remarkable visual and written document on Lukacs, one of Canada's greatest artists working today, and his unique collaboration with Morris, a hugely important artist in his own right.
Foreword by Catherine Crowston, Reid Shier & Wayne Baerwaldt.
Texts by Michael Turner, Scott Watson and Stan Persky.
Interview with Attila Richard Lukacs by Vince Aletti.
Designer: Derek Barnett, Information Office. Printed in South Korea.
Not available for Online Orders due to high shipping costs.
BUY THIS BOOK