Kids First Saturdays: Ink And Wash Painting And Zines
The following instructions will introduce you to ink and wash painting, which is one of the activities that will be used to create your own zine publication during our in-gallery Kids First programming on Saturday, September 5th 2020.
Registration for Kids First programming can be done by emailing s.bernard@thepolygon.ca.  Our new Covid-19 plan ensures a safe experience for all.
INSPIRATION
For the next several months, we will discover the artistic practice of 8 artists from the Third Realm: Contemporary Art From Asia exhibition, that will be shown in all gallery spaces starting on September 4th 2020.  We will begin our exploration with the work of Sun Xun, who is an artist looking at the tensions that exist between official and unofficial accounts of Chinese history.

These three still images come from a video piece created in 2006 titled Shock of Time. During the video, Sun Xun draws different images on old copies of political newspapers using the traditional Chinese art form of ink and wash painting. This act of covering up historical communist newspapers with a traditional art form is meant to underline the how these same art practices were suppressed in China during the Cultural Revolution (1966-1976). By making these images and by recording the process in video form, the artist reminds us that our public memory has the power to rewrite the past, and potentially, to create new forms of history.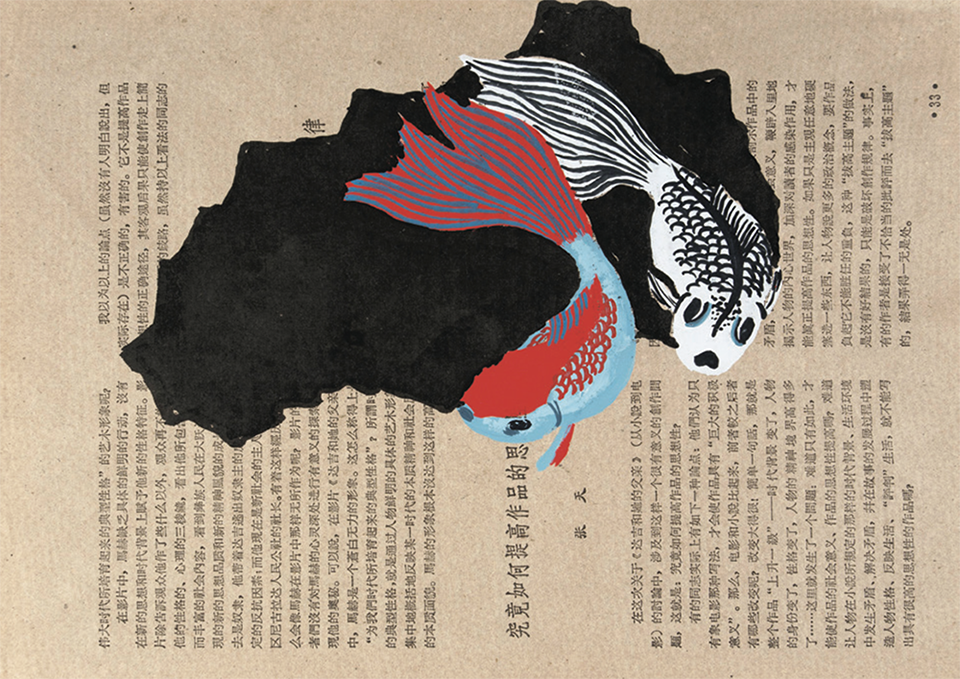 Image stills from Sun Xun's video, Shock of Time (2006), courtesy FarEastFarWest collection.
For anyone visiting the gallery from September 4th to November 8th 2020, download and print this 'Seek and Find' document before your visit, to help you look closer at the artworks in the exhibition. Or, use your personal device to look at the sheet as you go through the exhibit with your family.
STEP 1: GATHER MATERIALS
  Rice paper (Traditional ink and wash painting)
  Local telephone books (Modern 'official' publications)
  Small or medium writing brush made with either goat or wolf/weasel hair (Traditional ink and wash painting)
  Container with water and mixing plate or palette
  China / India Ink with container or ink stone
  Paper towels and/or newspapers and/or newsprint
  Optional: paper weight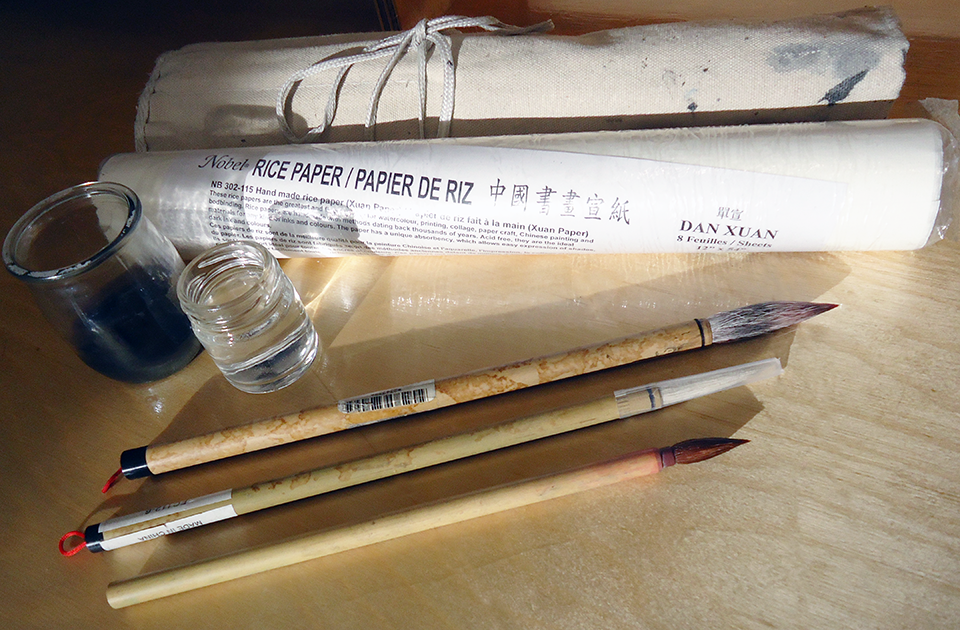 STEP 2: PREPARE YOUR WRITING BRUSH AND THEN PREPARE ONE OR MANY INK WASHES ON YOUR PLATE OR PALETTE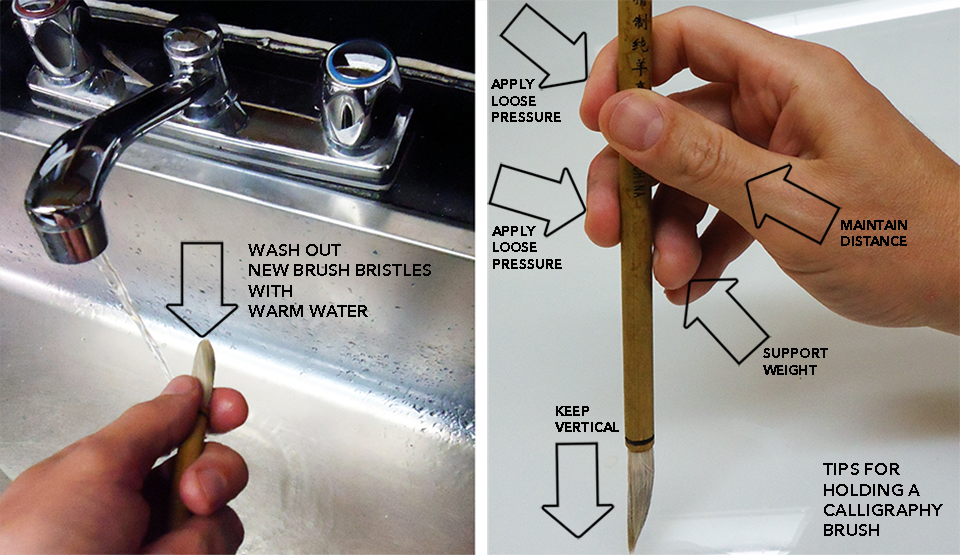 Keep the large container for loading water and rinsing your brush. Start by filling all but one of the smaller containers with clean water, then dry out your brush by dabbing it on the paper towels.
With a dry brush, pick up a bit of pure ink and put it in the last small container, the one without water: This will be your container for the DARK WASH.
Rinse out the ink in the next small container with water in it: This will become your container for the MEDIUM WASH.
With whatever is left on your brush, rinse it a second time in the last small container with clean water in it: This will become your container for the LIGHT WASH.
Finally, rinse your brush in the rinsing bowl, and put a bit of dirty water in the container with only a bit of ink in it: This small amount of water mixed with the ink will create your DARK WASH.

To load your brush with pure ink or with an ink wash, start by rinsing it out (1). Then dry the brush by dabbing it on paper towels as this will make the brush 'thirsty' for a liquid (2). Lastly, dip the brush in pure ink or an ink wash to have it drawn up into the brush bristles (3). Your brush is now ready to draw or paint on a paper surface.

STEP 3: PRACTICE MAKING LINES WITH BOTH A DRY BRUSH AND PURE INK, AND THEN WITH A WET BRUSH AND WASH.
DRY BRUSH TECHNIQUE: To make thin, black lines, load the brush with pure ink, then roll the tip of the brush on the paper towel to make it into a point. This will dry it out a bit, and will allow you to make fine lines with practice.

SPREAD BRISTLES TECHNIQUE: Another dry brush technique is to spread the bristles of the dry, clean brush before lightly loading it with pure ink. Carefully run the spread bristles onto paper towels before drawing or painting onto the rice paper. This trick is great for making textures or to put in animal fur or feathery details.

WET BRUSH TECHNIQUE: The wet brush technique will allow you to paint shapes more than lines. The ink washes spread easily onto the rice paper and the longer you keep the brush to the surface of the paper, the more the wash will spread. Move the brush quickly to produce expressive shapes, that simulate movement. Notice the difference a LIGHT WASH (two marks to the left) produces compared to a DARK WASH (three marks to the right).

You can even DOUBLE DIP your brush when loading it to produce a valued brushstroke:
Begin by loading the brush with a LIGHT WASH, and dry the tip on the paper towels.
Finish loading the brush with a DARK WASH, or with PURE INK before moving the loaded brush over the paper.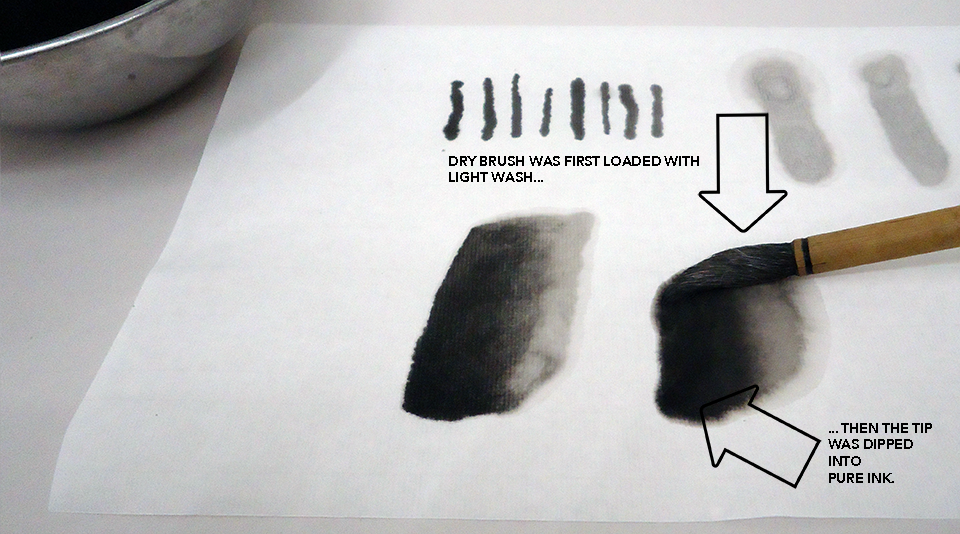 STEP 4: ONCE YOU ARE USED TO MAKING LINES WITH INK AND WASHES, MAKE A LARGE SHAPE IN THE MIDDLE OF A SHEET OF NEWSPAPER OR THE PAGE FROM A TELEPHONE BOOK.
The different gradients of wash, or values of ink, will allow you to paint different parts of one character, or will help you paint separate objects in different shades or darknesses of ink.
Unlike traditional calligraphy, use the side of the brush to spread the ink wash in several brushstrokes. Use the different brushstrokes (DRY BRUSH, SPREAD BRISTLES, WET BRUSH, DOUBLE DIP) to paint the separate parts of your character, using a LIGHT WASH for the lighted areas and the DARKER WASHES for the shaded parts. Leave blank the areas with the most amount of light. Keep the PURE INK for the final outline, and for the character details.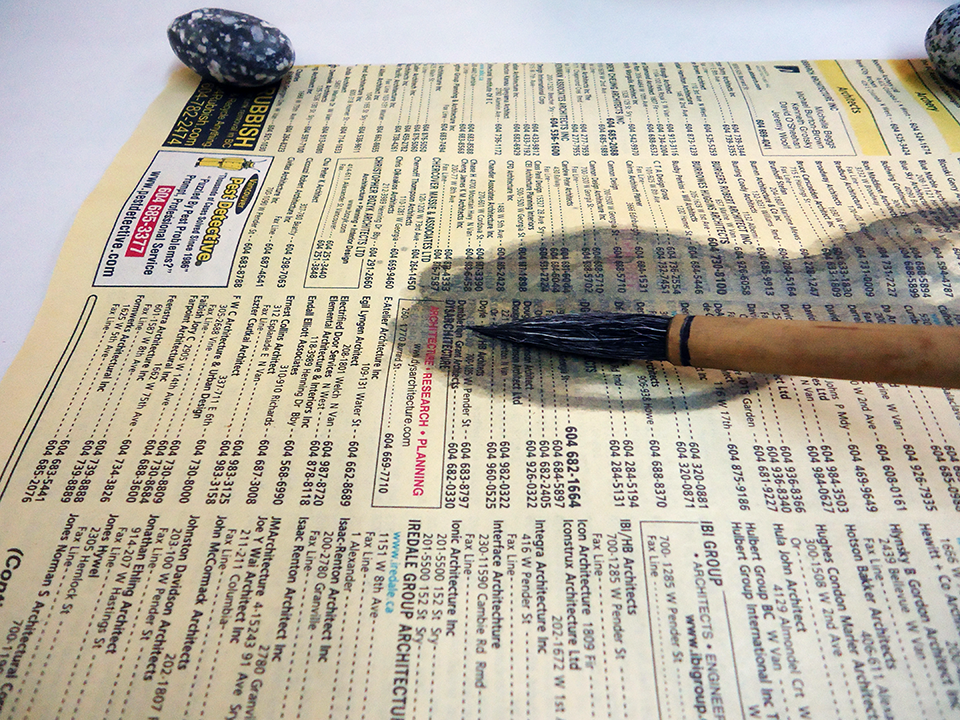 STEP 5: USE PURE INK TO MAKE A CLOSED, ABSTRACT FORM, OR TO FINISH YOUR PAINTING BY ADDING A DARK CONTOUR LINE AROUND YOUR PERSON OR ANIMAL. THEN ADD FINAL DETAILS TO YOUR PAINTING USING ONLY THE TIP OF THE BRUSH.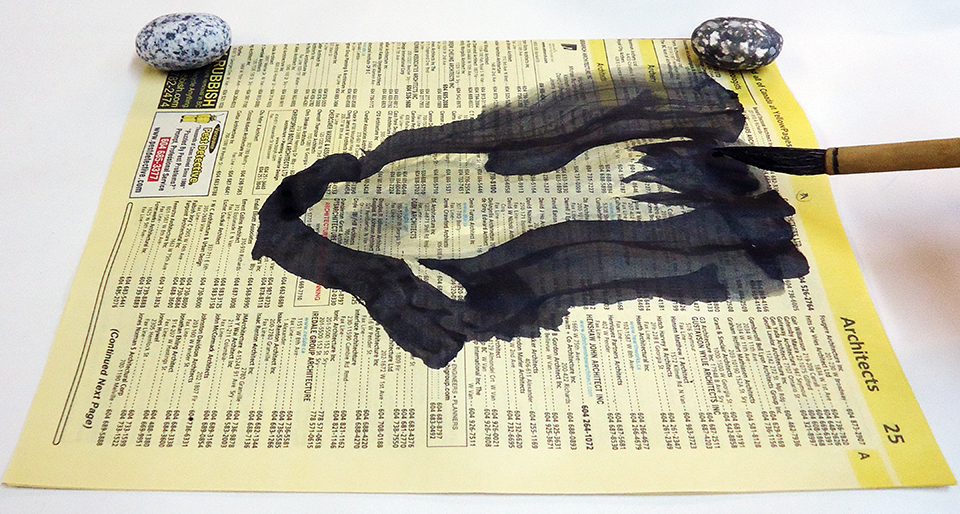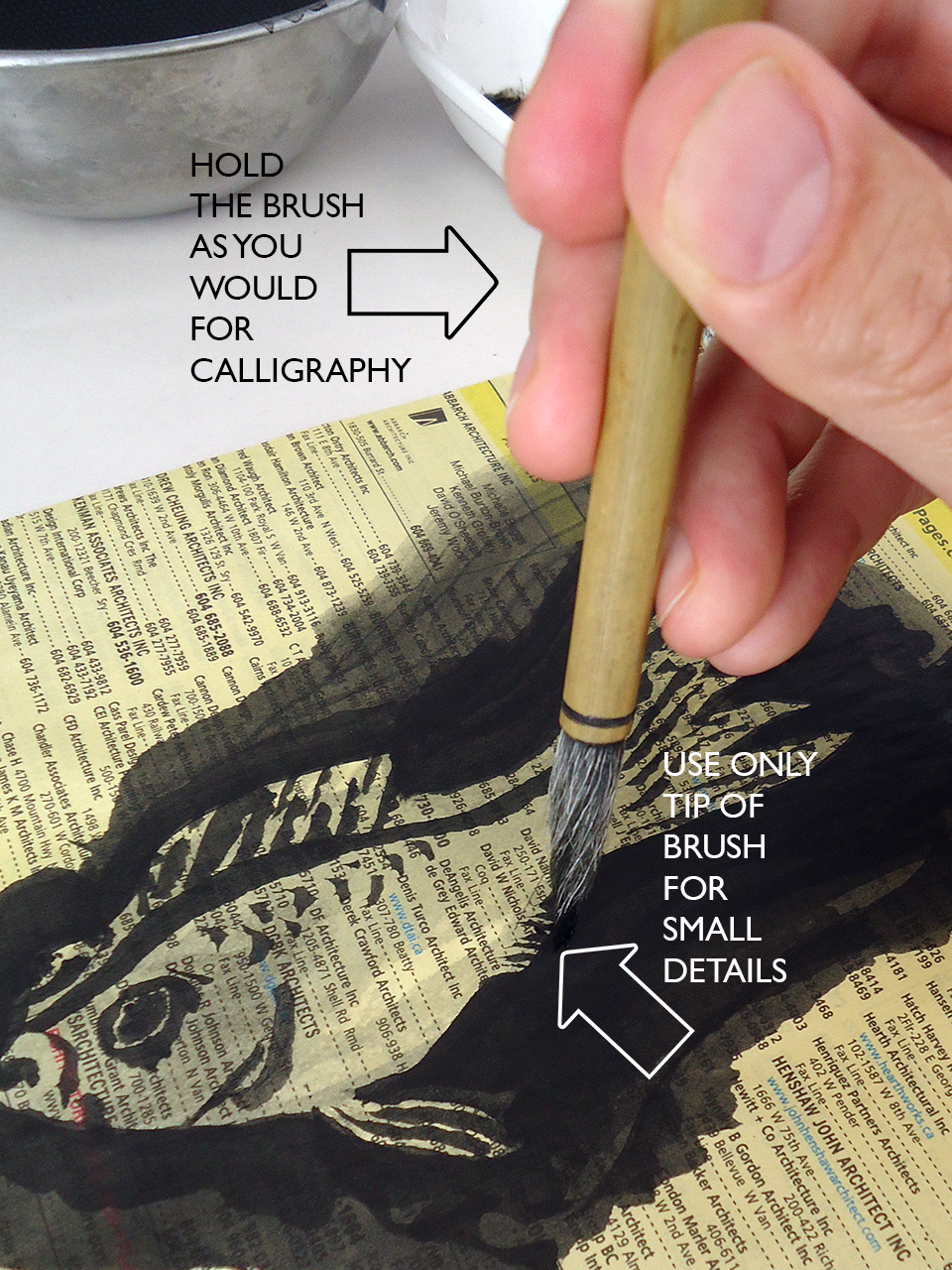 When you are finished, rinse out your brush with water and dry the bristles as much as possible by dabbing them on paper towels. Then hang your brush from the string until the bristles are completely dry (ideally overnight). Store your brush upside down in a container that will leave the bristles free from other objects.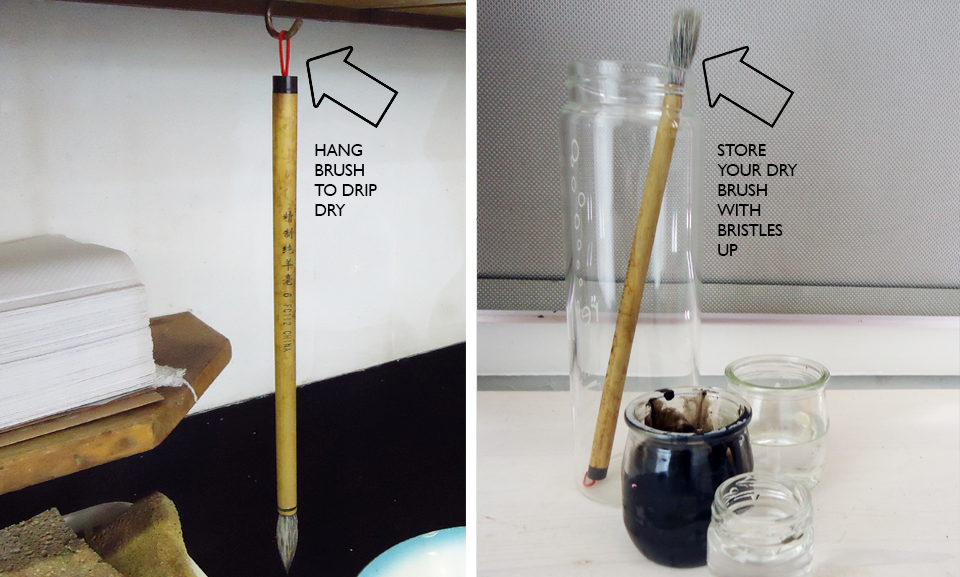 STEP 6: SHARE YOUR WORK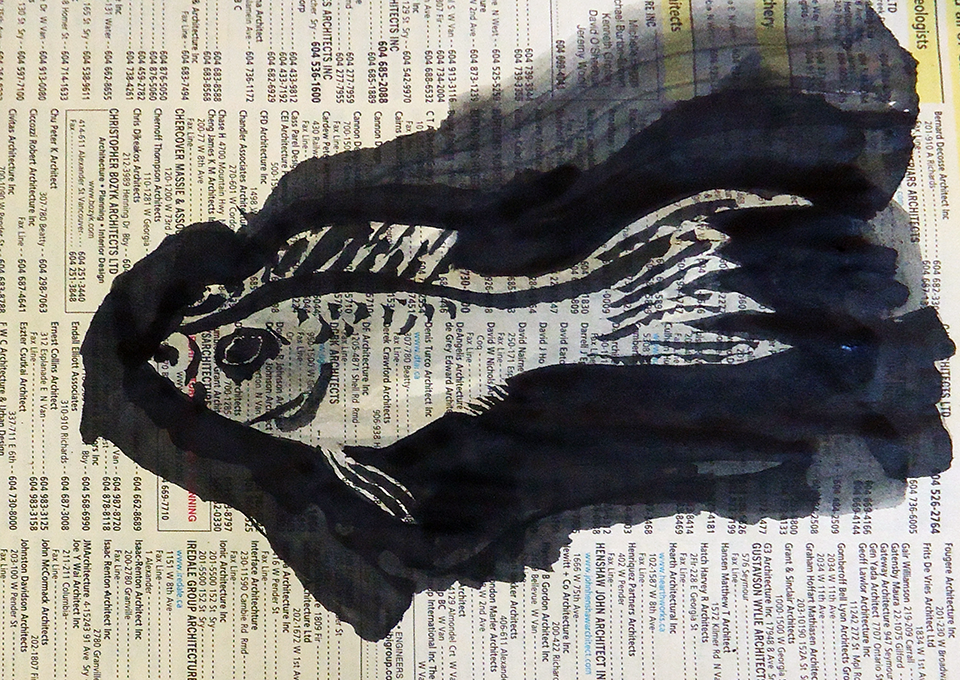 If you share your work online, be sure to tag @polygongallery as we would love to see your ink and wash painting. Did you make an abstract shape or something you can recognize?
Join us on Saturday, September 5th, in order to draw with traditional ink and wash materials in the Seaspan pavilion, and to learn how to bind all these images into a zine publication. Next week, we will explain some basic calligraphy techniques, which is the second activity that will take place on September 5th. See you soon!