Coming To Death's Door: Sandra Semchuk
Curated by: Karen Love
"My father suffered from a serious heart attack in July, 1988. In Coming to Death's Door, he and I look together at the event which led me to my helping him escape from the hospital. In the photographic images I trace my own responses to my father and his inevitable death. This investigation occurs within the simple experience of moving from the tent where I slept separate from my father's home, overlooking a lake in northern Saskatchewan, and of situating myself in his bedroom. I use the camera gesturally as a way of sustaining the experience from the inside, and of leaving a trace as an outside observer. The broken image, like the broken self, hastens the processes of reconstruction and synthesis" — Sandra Semchuk
Supported by the Hamber Foundation, the District of West Vancouver and the Canada Council.
A catalogue was published by Presentation House Gallery in conjunction with the exhibition, with a text by Joan Borsa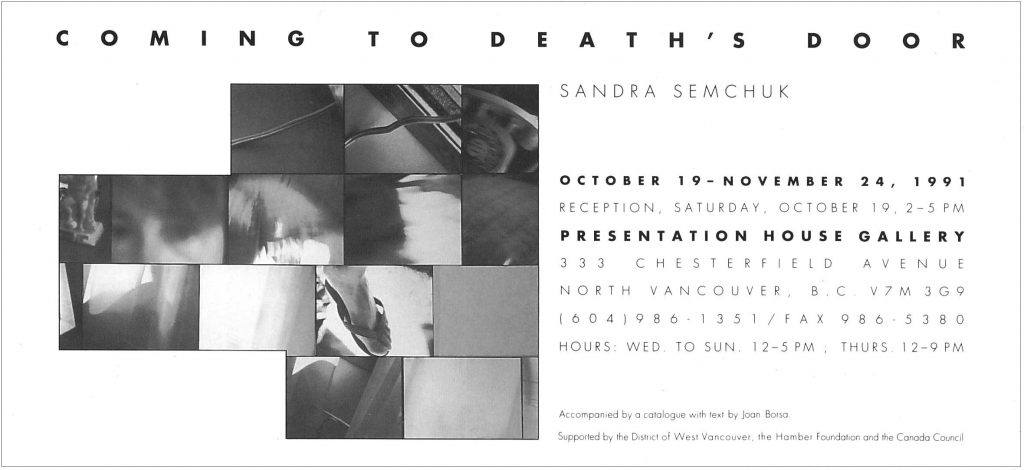 Sandra Semchuk: Coming To Death's Door, A Daughter/father Collaboration
"My father suffered from a serious heart attack in July, 1988. In Coming to Death's Door, he and I look together at the event which led me to my helping him escape from the hospital. In the photographic images I trace my own responses to my father and his inevitable death. This investigation occurs within the simple experience of moving from the tent where I slept separate from my father's home, overlooking a lake in northern Saskatchewan, and of situating myself in his bedroom. I use the camera gesturally as a way of sustaining the experience from the inside, and of leaving a trace as an outside observer. The broken image, like the broken self, hastens the processes of reconstruction and synthesis." — Sandra Semchuk
Curated and with text by Joan Borsa.
Out of Print
BUY THIS BOOK