Curated by: Karen Love
Sculptured wall pieces made with sandblasted glass, beeswax, photographs and lead, incorporate images from early Renaissance architectural sculpture to investigate representations of the body and gender relations.
"Through a process of sedimentation. McWilliams embalms his image fragments like insects in alum: they have been caught in the rapid flight of representation, interpretation, and iconic dispersal; they have been cropped from their context and suspended in history without, I am quick to add, suspending history".   Russell Keziere
Supported by the Canada Council, and the Government of Canada, Department of Communications, through the PADAC Art Foundation with assistance from the Equinox Gallery.
A catalogue was published by Presentation House Gallery in conjunction with the exhibition, with text by Russell Kaziere
Touring exhibition
Oakville Galleries, Oakville ON - Jan. 10 – Feb. 14, 1993
Art Gallery of Windsor, Windsor, ON - May 8 – July 3, 1993
Edmonton Art Gallery, Edmonton, AB - August 21 – Oct. 3, 1993
Sir Wilfred Grenfell Art Gallery, Memorial University, Corner Brook, NL  - Jan. 16 – Feb. 20, 1994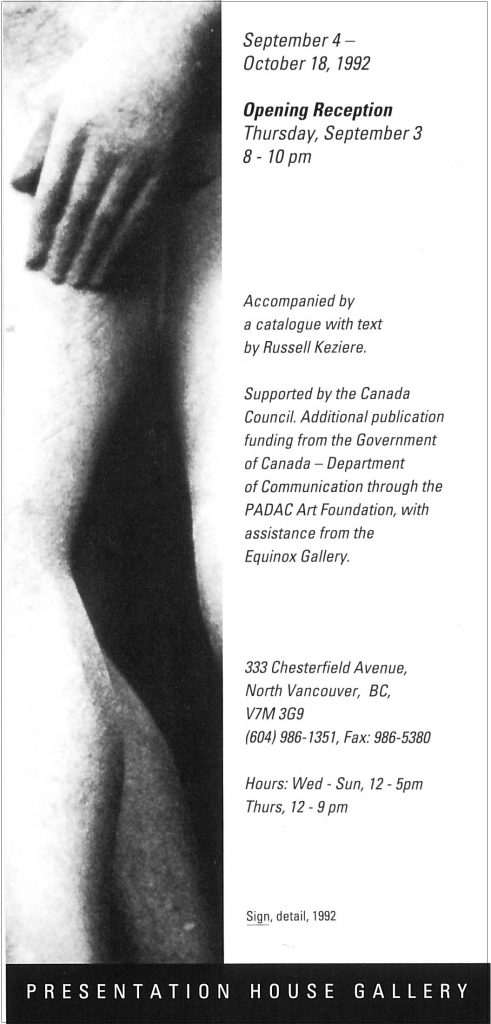 Al Mcwilliams
Catalogue published in conjunction with an exhibition at Presentation House Gallery from September 4 - October 18, 1992. The exhibition toured to the Oakville Galleries, Art Gallery of Windsor, Edmonton Art Gallery and Sir Wilfred Grenfell Art Gallery, Memorial University.
Text by Russell Keziere. The publication includes a list of works, a biography/bibliography and is bilingual (English and French). French translation: Colette Tougas.
The catalogue is Out of Print
Catalogue designer: Alex Hass, Hodgson & Hass.
Printer: Hemlock Printers.
BUY THIS BOOK