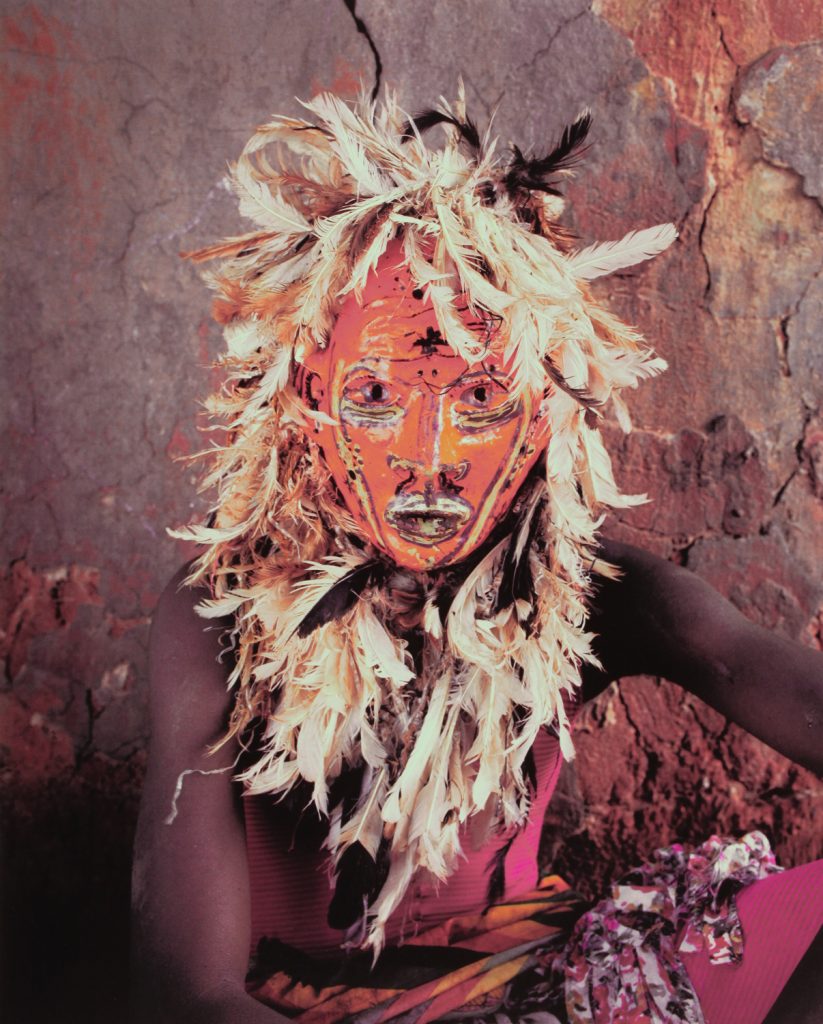 The Elephant Has Four Hearts Portfolio
The Elephant Has Four Hearts Portfolio, is the photographic work of Vancouver based photographer Douglas Curran, containing 3 large prints from his series. Douglas Curran first met members of the Chewa people while working on a film in Zimbabwe in 1992. The Chewa he met were migrant workers from Malawi employed on plantations and in mines. Over a period of several years he gradually became integrated into this community in Malawi, photographing and filming their extraordinary rituals associated with a belief system known as Nyau. The Chewa rituals and their masks are part of a complex and spectacular set of beliefs that Curran has been encouraged by the Chewa to document. Curran, no longer an outsider to this culture, has created a stunning pictorial record that invites dialogue about recording the lives of others, and forces comparisons with contemporary performance art.
Portfolio of 3 digital prints on Fuji-flex paper
Edition of 10
each print: 32 x 24 inches / 81 x 61 cm
2005
Tidyenawo, Let's eat together
Chatewa village, Kachindamoto District, Malawi, 2000
Ndapita ku Maliro (Nkhuku Mutsekele), I'm going to the Funeral, Lock up the Chicken
Revealing an old man with his bulging cheeks and toothless gums, Ndapita instructs the young people of his compound to "lock up the chicken", ie; to refrain from sexual relations during the time of the funeral rites. Ndapita's prohibitions are part of the large and complex set of Chewa beliefs known as ndulo (literally, 'to cut'). The Chewa believe that sex creates a 'hot' condition in individuals, while the ancestor spirits claim the deceased at the funeral are 'cool', creating an imbalance – a meeting of opposites that can have serious consequences for one's family members. Seemingly nonsensical to westerners, other aspects of the ndulo act as conventions against incest, promote birth spacing and delineate the responsibility of fertility beyond one's own being and desires. Lunguzi village, Kachindamoto District, Malawi, 1999
Apatakasi, The Portuguese Slaver
The Portuguese arrived on both the western and eastern coasts of the African continent in the mid 16th century, utilizing forced labour to build their colonies and feeding a continuous supply of Africans to their colonies in the New World. The holes in the face of Apatakasi recall the appearance of syphilis, brought to Africa from the New World by the Portuguese. Hatcliffe, Harare, Zimbabwe. 1997
Exhibition dates: Januray 8 – February 27, 2005
An international touring exhibition. (2006 – 2008)
the online bookstore is currently unavailable.