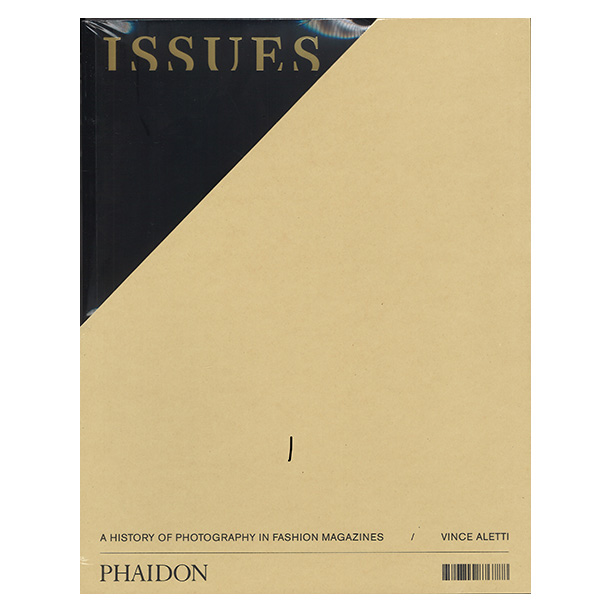 ISSUES - The History of Photography in Fashion Magazines
Nominated for PhotoBook of the Year by Paris Photo / Aperture Foundation PhotoBook Awards 2019
A showcase of ground-breaking photography of fashion magazines over the last century
Acclaimed photography critic Vince Aletti has selected 100 significant magazine issues from his expansive personal archive, revealing images by photographers rarely seen outside their original context. With his characteristic élan and featuring stunning images, Aletti has created a fresh, idiosyncratic, and previously unexplored angle on the history of photography.
Issues, a luxury, oversized object, richly illustrated with brilliant reproductions, and enclosed in an elegant archival-style magazine-file box, is an essential addition to every book collection on photography, fashion, and graphic design.
It's the first survey to explore the history of photography through the lens of fashion magazines, spanning the years 1925 to 2018. Magazines featured include American, British, and French Vogue, Harper's Bazaar, W, Details, Purple Fashion, The Face, Dutch, and many more.
"Stunning."—The New York Times
"Issues is a testament to the abundance of marvelous photographs that haven't been digitized."—WSJ. Magazine
"Catalogues the seminal work of photographers like Irving Penn, Steven Meisel and others, splashed across the pages of magazines like Vogue Italia, V and Dutch. It highlights certain issues of these magazines, with notes from Aletti on why they are both personal and widely significant."—The Face
Vince Aletti is a writer, curator, and critic whose work appears regularly in such publications as Artforum, photograph, and Aperture. Aletti was art editor and photography critic of the Village Voicefrom 1994 to 2005 and reviewed photography exhibitions for the New Yorker's "Goings On About Town" section from 2005 to 2016. He is the author of The Disco Files 1973-78: New York's Underground, Week by Week (2009, reissued 2018) and coauthor of Avedon Fashion 1994-2000(2009) and has contributed essays to numerous publications on photography and fashion. In 2005, he won the International Center of Photography Infinity Award for Writing. He lives and works in New York's East Village.
The gallery exhibited Male: Work from the Collection of Vince Aletti in June 2008 and in October 2012 Vince Aletti curated Horvat: Fashion
Softcover in a box
468 pages
Publisher: Phaidon Press
Authors: Vince Aletti