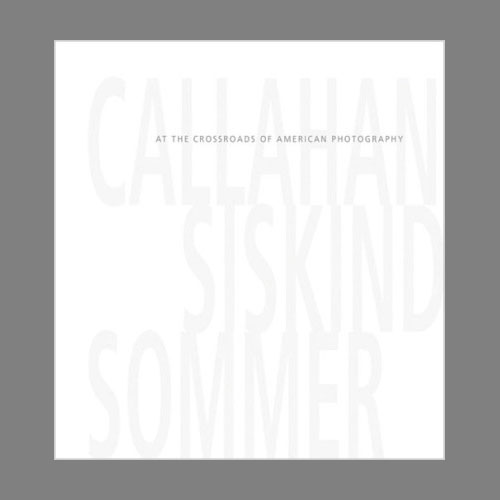 At the crossroads of American photography - Callahan, siskind, sommer
At the Crossroads of American Photography examines the aesthetic interrelationship of three photographers who helped define the course of American photography: Frederick Sommer, Harry Callahan and Aaron Siskind. Although each has been honored with individual museum retrospectives, this is the first full comparison of their work and exploration of their robust, prescient exchange of ideas about photography, abstraction and metaphor. Self-taught as photographers, they helped shape a national community of peers and the evolution of photography as an art form. They are the bridge between the purity of Group f/64-era photography at mid-century and the hybrid approaches to the medium seen today.
These men, whose professional friendships span 25 years, were dubbed the "holy trinity" of American photography. This exhibition and publication highlight the powerful role of such camaraderie in shaping photography at this seminal time, before the emergence of a market for photography and before widespread artistic acceptance of the medium. It brings to light contrasting philosophies of the artist/photographer's role (influenced by existentialism for Siskind and by the writings of Spinoza for Sommer); the interest in chance as an artistic process; the expressive potential of photographic 'found' objects and 'collage'; experimental abstraction; close affiliations with "fine art" movements (New Bauhaus, Abstract Expressionism and Surrealism); and changing attitudes toward the fine-print tradition. This project explores the intellectual genealogy of American photography, as well as the artistic personalities that helped define photographic education in this country for generations to come.
This publication, which accompanies an exhibition at The Scottsdale Museum of Contemporary Art.
Hardbound with dustjacket
10.5 x 11.25 inches
66 duotone illustrations
152 pages
Publisher: Radius Books
Authors: Essays by Keith F. Davis and Britt Salvesen