The Polygon Podcast: Episode 14 Apichatpong Weerasethakul - October Rumbles
In this episode, filmmaker Apichatpong Weerasethakul is in conversation with curator and arts consultant Noah Cowen about making art during a time of societal change. To complement this episode, the acclaimed filmmaker has created an original short film in response to the global pandemic. Titled October Rumbles, this poignant, haunting work and its accompanying text is available online for the next two weeks.
You can listen with the player above or iTunes, Spotify, and  Google Podcasts.
Follow us on Instagram for more content from this episode.
Banner Image and episode art: Apichatpong Weerasethakul, video still from October Rumbles, 2020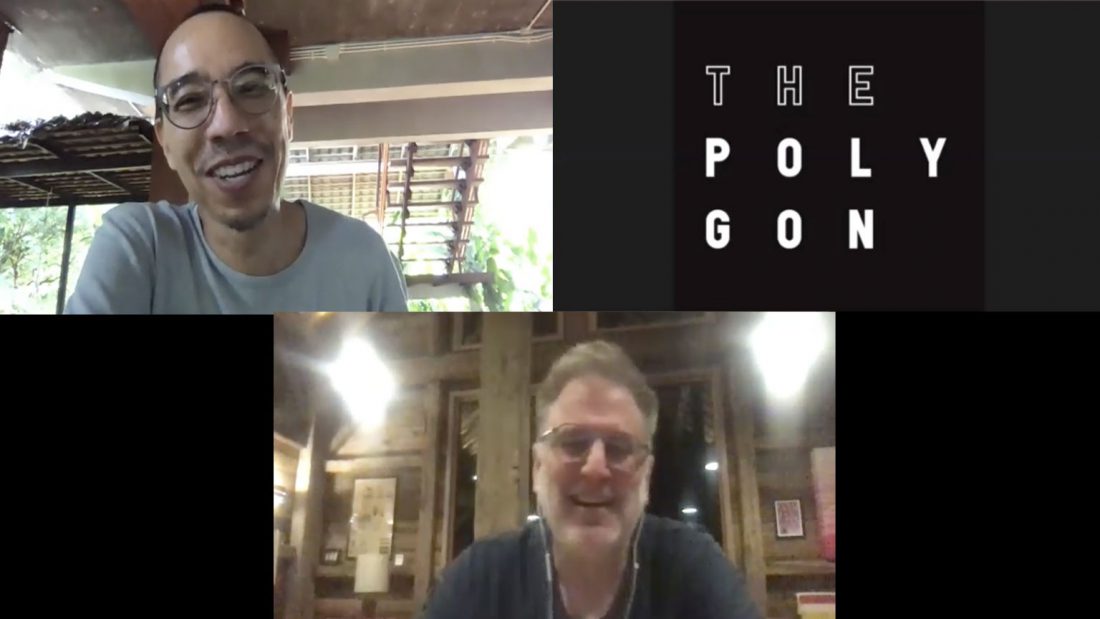 Apichatpong Weerasethakul is a Thai independent film director, screenwriter, and film producer. Working outside the strict confines of the Thai film studio system, Weerasethakul has directed several features and dozens of short films. His feature films include Uncle Boonmee Who Can Recall His Past Lives, winner of the 2010 Cannes Film Festival Palme d'Or prize; Tropical Malady, which won a jury prize at the 2004 Cannes Film Festival; Blissfully Yours, which won the top prize in the Un Certain Regard program at the 2002 Cannes Film Festival; Syndromes and a Century, which premiered at the 63rd Venice Film Festival and was the first Thai film to be entered in competition there; and Cemetery of Splendour, which premiered in the Un Certain Regard section of the 2015 Cannes Film Festival to critical acclaim. Apichatpong has also widely exhibited in galleries, and his work is currently on view at The Polygon Gallery until November 8.
Noah Cowan is a film and media consultant and curator, drawing on his work in many areas of the film world. He was most recently the Executive Director of SFFILM, following roles as the Artistic Director of TIFF Bell Lightbox and Co-Director of the Toronto International Film Festival. Cowan also co-founded the pioneering distribution company Cowboy Pictures and non-profit funder and educational distributor Global Film Initiative. He is the co-curator of multiple film and visual arts exhibitions, including David Cronenberg: Evolution and Transformation, and has written extensively on both topics.

© Apichatpong Weerasethakul
Three Ideas from 2020
RAIN AND REGENERATION
For two years I was focused on Colombia, where my latest film is set. I was immersing myself in a new culture, a new language and other peoples' memories. Covid forced me to be in Thailand and to change my life drastically in every way. I was stuck here and forced to absorb the situation and to try to continue to be a filmmaker. At that same time, we had a big fire, a mountain fire. The air was full of smoke and from my home I could see the red glow. I had to sleep with a mask on and, because of Covid, I could not escape these multiple never-ending situations.
Then the smoke was gone and life literally regenerated. I first started to walk in the mountains and to see these burnt charred stumps of trees. Then the rainy season started two months later and new leaves came out all over. And so I found myself witnessing this cycle of beauty and the abundance of life around my home which I had not noticed before.
When Covid began, I was really yearning to connect with people, to Zoom with friends and talk with my actors. I was really longing for physical touch, the act of embracing someone. But after the coming of the rain and seeing all this life around here, I realized I didn't need any of that. There is enough life here. So I am really content now. That is why I've made a number of short films, including this one, all of which involve this rain. My Colombian movie also ends with a long rain. I feel all this connection…and closure maybe.
EMPATHY AND POLITICS
The way that we live normally we always need distraction. We need Netflix. We need cinema. We need tools to forget about ourselves. The way I usually make films I have to look inside myself, to search for memories and other stuff. But now I feel that maybe that's not so healthy. To be able look at other peoples' memories is a way to decentralize your thinking and create empathy for others. In Thailand right now, there is big political unrest going on and it again makes us realize how easily we forget the plight of "the people." And how here we keep coming into a loop, with the military coming on the scene, entering politics, and controlling us.
I think I was initially more aware of my own suffering, in terms of my inability to express my freedom in my own country and the role of the military or the monarchy or whatever in creating these feelings. But then you realize there are others suffering much more in the Covid time and you see these really huge gaps in equality and the power of this struggle both in this time and the struggle that has been going on for decades.
BUDDHISM IN A TIME OF CRISIS
There are so many people living in fear today, full of anger and rage and the hatred of others. People like this are too attached to the idea of the self. Or even belonging to a nation. They believe they really exist alone and are stubbornly attached to this idea of existence. In Buddhism, everything is connected and you are not you. You are part of this universe. You are connected with that other guy and become one. So there is no wall to differentiate things into "this is us, this is them."
But can we just not appreciate everything that has happened. Every moment we have experienced can be interesting. Even its banality. The wind, the rain, the rhythm it creates; the metal hitting concrete. And then you can synchronize these moments with your own time and your own rhythm and then with others. And then you realize you are flowing together, you are in the same river, the river of time, the river of bodies, of consciousness, of history.
-Apichatpong Weerasethakul
Subscribe to The Polygon Podcast on iTunes, Spotify, and Google Podcasts.